MAJOR DISCOUNTS ON SOFT PET PAW CLEANER AT OUR STORE
Shop the Soft Pet Paw Cleaner from our store today. With popular store picks such as Soft Pet Paw Cleaner, we're offering you a chance to save US $35.90 on this in-demand item.
Buy today for 50% off. Offer for a limited time only.
LEARN MORE ABOUT SOFT PET PAW CLEANER
Aren't you already excited about becoming the Dog Foot Cleaner Feet Washer owner? Because that's an amazing range of features! So, ADD TO CART this incredible item right now!
Dirty paw in. Clean paw out.
Comfort + clean in one go
Tired of your dog or cat fussing around as you try to clean his or her paws after a walk outside? Relieve your pet's stress with our Soft Pet Paw Cleaner, thanks to soft interior silicone bristles. Baby wipes and mountains of towels not required.
Each cleaner's soft silicone bristles not only help clean but also provide delicate pet feet with a gentle massage. Your pet will love the seconds of relaxing bliss with zero pain.
Cleaning your
pet's
paws is a cinch
Step 1
Fill up one paw cleaner with warm water (soap can be added too if desired).
Step 2
Gently insert one of your pet's paws in and brush in an up-and-down stroke motion. Remove your pet's paw when done.
Step 3
Pour out the used water, and flip the cleaner paw inside out to cleanout.
Great for dogs and cats alike
Soft silicone bristles mean cleaning that doesn't hurt or scare
It's easy to take anywhere
Great gift idea for pet owners and lovers alike
A built-in lid at the cleaner opening provides better storage and cleanliness
Clean up your pet's paws in seconds while providing a gentle bristle massage
A clean pet is a healthy pet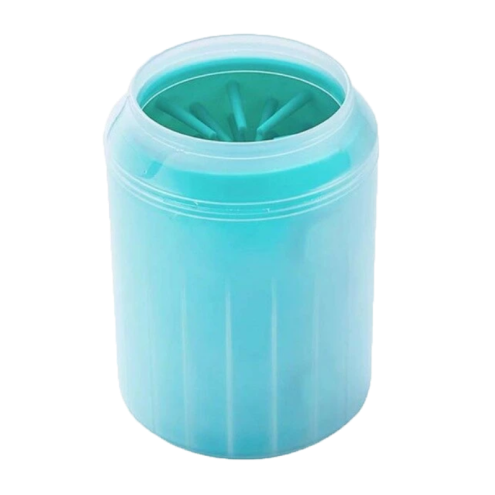 Built to fit
Each paw cleaner measures 6.3 x 8.2 x 11.2 cm / 2.5 x 3.2 x 4.4 inch. The small size ensures portability and an easy fit for your dog's paws.
PRODUCT QUESTIONS & ANSWERS
Are there any other product options?
Please, take a look at the product page: there, you can see all Soft Pet Paw Cleaner options that are available for purchase. Moreover, we update the variations as soon as we get new supplies.
Which materials does your supplier use in the production of your Portable Pet Paw Cleaner?
Don't worry, because we use only top quality materials to make the Soft Pet Paw Cleaner.
Do I need to pay any taxes?
You can see the final price on the checkout page. Therefore, if it includes some taxes, it will be shown there.
How much for this?
Glad you liked it! It costs US $35.90.
What if I don't like it after it comes in the mail?
Please, double-check the Color before ordering. However, if you still don't like the product, you can ask for a refund.
Do you allow sharing photos of your product on social media?
We'll be happy if you show our products to your friends, so don't hesitate to do it!
ORDERING & STORE POLICIES
I'm going to order several units of the same item. Will they come at different times?
If you order several units of the same product, they arrive together, but each of them may have a separate package.
Can I order two or more products at a time?
There's no limit on that, so you have an opportunity to include as many products as you wish in your order.
Can I buy the Portable Dog Paw Cleaner Pet Cleaning Brush Cup right now?
The product is still available. So ADD TO CART the desired number of units to place your order.
I want to ask something, but how do I connect to your help center or something?
If you have any questions, feel free to use the contact channels listed at the bottom of the page to ask for our support.
Is everything legal about you selling these products?
We have all the required licenses. In addition, this store is fully authorized to work with the licensed manufacturers who supply us with these and other products.
What is the main difference from your competitors?
We care about our customers and try our best to make them happy. As a result, we offer a wide variety of products and use a customer-friendly return policy.