HOT OFFER! GO SWING CAN OPENER AT A 33% DISCOUNT!
Interested in our Go Swing Can Opener? Score one NOW from our store for an amazing 33% discount! See what makes buying from us better than with any other retailer:
Worldwide delivery
Secure packages for peace of mind
Ready-to-help customer service
Learn all the features of our Go Swing Can Opener below. If you have any questions, feel free to reach out to our customer service.
MORE ABOUT GO SWING CAN OPENER
Sounds like a tempting offer, right? Therefore, ADD TO CART the desired variation of the Swing Opener and enjoy your purchase!
Add a punch to your bar game for your next party or kickback. Instead of popping cans open, pop off the entire can top for a unique drinking experience. Our Go Swing Can Opener fits right onto the top of your drink can for a clean, thorough cut. Removing the can top not only reduces pressure in carbonated beverages for a smoother pour (if you choose to pour into a glass), but also allows the full aroma of any drink or soda to really draw you in — plus, an open can top means you can also spice up your beverage with garnishes for a glass-less drinking session.
Built strong and sturdy
Constructed of ABS plastic and four sharp 304-stainless-steel blades, let a simple 360-degree twist do all the work for you. Quick and easy to use so the
drinks
can keep coming at any event.
Our opener is easy to operate
Snap-on. Twist. Go.
Step 1
Grab the top edge of the can or bottom edge of the can for a sturdy grip (don't hold the center of the can though due to internal pressure).
Step 2
Open the handle of the opener and place the tool on top of the can.
Step 3
Squeeze the handle and rotate fully until you hear the release of pressure.
Step 4
Align the can rim with the handle notches and slowly rock to open the top of your can.
Works on just about any beverage
(8-19oz cans are best)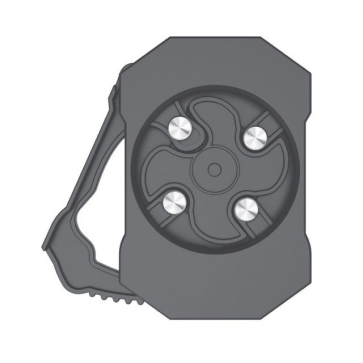 Drinks only, please
Note that this Go Swing Can Opener only works on canned beverages and is not designed for canned foods. Improper use of non-fit cans may result in injury or damage to the opener.
PRODUCT QUESTIONS & ANSWERS
Why would I buy your Swing Opener instead of other products?
By buying the Go Swing Can Opener, our clients can stay confident that they get a high-quality product for a fair price since we take pride in making our customers happy by offering them good quality and low prices.
Do you follow all the manufacturing requirements?
All our products, including the Go Swing Can Opener, meet the required standards. Moreover, you may look at the feedback from our previous customers, and make certain that you're making the right choice!
I'm not sure I'm ready to buy it. Is this the right price?
It's a good offer considering the prices in other online and offline stores, so you are unlikely to find a better offer.
I want it! How much does it cost?
We appreciate your interest in our product above all. It costs only US $40.00.
Can I share the photos of this product on the Internet?
You can freely share photos of our products. Moreover, we'd be happy if you did.
Is there some positive feedback about your Swing Opener?
As it's pretty affordable, our buyers mention it in their reviews a lot. Moreover, they are typically happy with its quality.
ORDERING & STORE POLICIES
Are your packages safe enough?
The thing we're concerned about the most is the safety and security of our clients. That's why we pack our products in the best possible ways.
Do I have to order only one product at a time? In other words, what if I need to buy more?
Nothing can stop you from having as many products as you wish in one order! So it's totally Ok to order more than one.
How many of these are in stock?
There are enough items to place a medium-scale order. However, we would recommend that you make your purchase as soon as possible as we expect the Go Swing Can Opener stock to run low by the end of the week.
Is it available now?
You are certainly welcome to place your order as we currently have enough of these in stock.
Do you sell the Swing Opener on a legal basis?
We have all the required licenses. In addition, this store is fully authorized to work with the licensed manufacturers who supply us with these and other products.
I am not sure that I should buy it from you. Why choose your store?
We pay close attention to the selection of the best materials, technologies, and manufacturers. This is why you can buy from us with confidence!